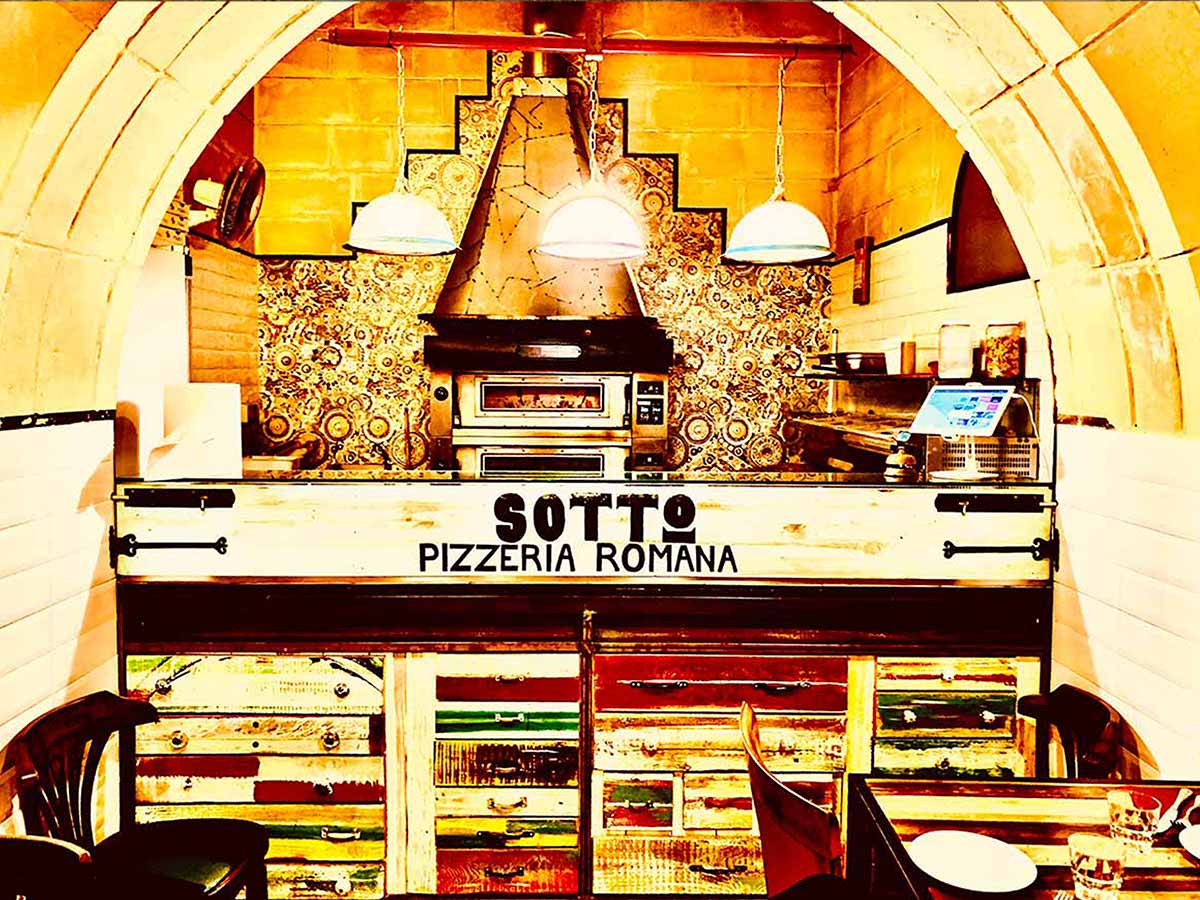 Welcome to Sotto Pizzeria
La nostra pizza non è più buona delle altre, è semplicemente diversa.
Up to to 72 hours of leavening, four different types of flour and a lot of passion for what we do.
Who we are
We bring the true Roman pizza in the heart of Malta
Our Story
After years of experience in Rome, we decided to bring the true Roman pizza in the heart of Malta: fresh and selected ingredients, four different types of flour and a leavening of 72 hours make our pizza a unique and unforgettable experience. In our pizzeria, tradition and Roman hospitality merge to provide our guests with an authentic taste of our ancient culture, thanks to a work we do with passion.
Tradition
Tradition is our strong point. In Rome, tradition is everything and is poured into every element of everyday life, first of all in food; for this reason, it is the added value of our pizzeria. Every day we try to put the Roman heritage in everything we do, in every pizza we cook, in order to pass it on to our guests … or at least a bite of it.
Tradition is the transmission over time, from generation to generation, of knowledge and memories, is the legacy of our ancestors who lives in us, in precise ritual gestures.
Passion
What distinguishes our pizzas, our secret ingredient, is the passion that we put in every step of their preparation. Since they are kneaded until they come out of the oven and reach your tables, the Roman pizzas we serve receive all our care and attention, because giving you an authentic dinner is our mission.
Passion is a strong inclination, a total transport of the soul, which is fully dedicated to the object of this dedication. This is what characterizes our pizzas.
Hospitality
hospitality is one of the distinctive characteristics of Rome and its inhabitants. Since ancient times, this city has become accustomed to cultural exchanges that have made it particularly prone to hospitality and conviviality. The typical Roman hospitality is present in every aspect of our pizzeria, from the atmosphere to the warmth of our staff: we try to make everyone feel part of a big family.
Hospitality, for Romans, is closely linked to tradition and passion: to the tradition because it was a feature almost sacred in ancient times, to the passion because we do everything we can do to make every single guest feel part of a family.
Gambero Rosso
Le migliori pizzerie del mondo secondo la guida "Top Italian Restaurants" sono 12: Bijou, a Parigi; Leggera Pizza Napoletana, a San Paolo; Luigia, a Ginevra; Napoli sta'cca, a Tokyo; Ribalta, a New York; Montesacro, a San Francisco; PizzAperta, a Sydney; Radio Alice, a Londra; Sotto, a Malta; Una Pizza Napoletana, a San Francisco.
Cotto e grana
Mozzarella, ham and parmesan
Speck e stracchino
Mozzarella, smoked ham and soft cheese
Guanciale e provolone
Mozzarella, Pork Cheek and Smoked Cheese
Melanzane e provolone
Mozzarella, Aubergines and Smoked Cheese
Zucchine e feta
Mozzarella, zucchini and feta cheese
Tomato sauce, mozzarella and anchovies
Tomato sauce, mozzarella and spicy salami
Wurstel
Tomato sauce, mozzarella and bratwurst
Tonno
Tomato sauce, mozzarella and tuna
Tomato sauce, mozzarella, pork cheek and pecorino
Tomato sauce, mozzarella, mushrooms, egg, ham and olives
Tomato sauce, mozza,mushrooms and parma ham
Tomato sauce, mozzarella, buffalo mozzarella, rocket and smoked ham
Tomato sauce, mozzarella, buffalo mozzarella and parma ham
Mozzarella, sausages and potatoes
Mozzarella, mushrooms, potatoes and ham
Bresaola più
Mozzarella, bresaola, rocket and parmesan
Mozzarella, aubergines, egg, ham, parmesan
Mozzarella, rocket, parma ham and truffle sauce
Mozzarella, pork cheek, pecorino, egg, black pepper
Piazza di Spagna
Mozzarella, Smoked Ham, Zucchini e Smoked Provola
Trastevere
Mozzarella, Broccoli, Anchovies and Cherry Tomatoes
Mozzarella cheese and ham
Vivace
Mozzarella, tomato sauce, mushrooms, ham and egg
Rustico
Soft cheese, mortadella and pistachio
Cannelloni ricotta e spinaci
La feta
Salad, tomatoes, feta, olives, onion and red pepper
La Pinna gialla
Salad, tomatoes, mozzarella, carrots, tuna and balsamic vinegar
L'orto del nonno
Salad, tomatoes, rocket, sweet corn, carrots, olives
La Ciociara
Rocket, tomatoes, chickpeas, parmesan cheese
Sotto Pizzeria's Blog
Where you can read about pizza!
Wanna Eat pizza at home or office? With pizza delivery in Malta you can: Try our Roman pinsa!
read more
Sotto Pizzeria
32, South Street
Il-Belt Valletta,
Malta
| | |
| --- | --- |
| Monday | |
| Tuesday | |
| Wednesday | |
| Thursday | |
| Friday | |
| Saturday | |
| Sunday | |
Sotto Pizzeria
32, South Street
Il-Belt Valletta,
Malta
| | |
| --- | --- |
| Monday | |
| Tuesday | |
| Wednesday | |
| Thursday | |
| Friday | |
| Saturday | |
| Sunday | |